As a freelancer, if you don't have a presence on Facebook, get one.
Facebook is the undisputed champion being the most-used social media channel in the world with 2.96 billion active monthly users. This really makes it a no-brainer on whether you should use Facebook marketing strategies for your freelance business.
Facebook has a boatload of channels to fit every creative need to make your marketing strategy unique and effective. With features like Ads Manager, Groups, Pages, Events, Stories, and more, you can tailor your strategy to fit your creative needs.
From customizing campaigns based on target audiences to developing creative content for specific business goals, Facebook is the perfect platform for any marketer looking to master their fate!
Image and Video Posts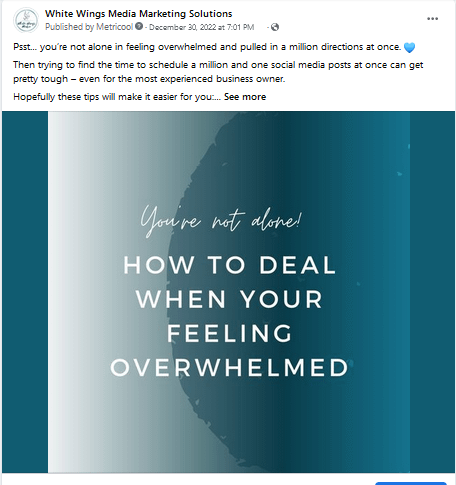 Image and video posts are an effective way to promote your freelancing services on Facebook. I suggest starting with your personal profile and controlling who sees your content through the friends list feature.
Once you have a steady following, start a business page and ask your followers to migrate. Getting followers to a Facebook business page is extremely difficult at first, so this is just a shortcut that you can use if you choose to.
Start by creating an engaging post that highlights the services you offer and what sets your work apart from competitors. Include a colorful image or video that captures the essence of your freelancing specialization. Make sure the image or video is high quality and relevant to your niche.
Try to keep your posts interesting by using different media, such as photos, GIFs, videos, and more.
When posting, use hashtags and relevant keywords to make sure your post appears in relevant searches. Also, be sure to include a link to your website or portfolio so that potential clients can learn more about you and the services you offer.
Finally, don't forget to engage with your potential clients and even offer them more value-based services and share your content with influencers and bloggers who may be interested in featuring your brand.
Stories
Stories video posts, Stories Carousel, and Collections are great Facebook marketing strategies for freelancer marketing. With Stories video posts, freelancers can create short videos to promote their business, services, or portfolio.
Freelancers can use Stories Carousel to showcase multiple images or videos in one post. This is a great way to show off a portfolio, offer multiple services, or highlight customer reviews. Freelancers can also add text and effects to their videos and images to make them more attractive and engaging.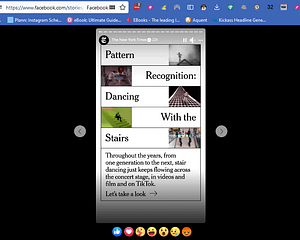 Finally, Stories video posts and Stories Carousel can be used to create a sense of urgency with limited-time offers or discounts. Be sure to use hashtags to help people find your content, and include a call-to-action in your post so that viewers can learn more about your services.
Facebook Messaging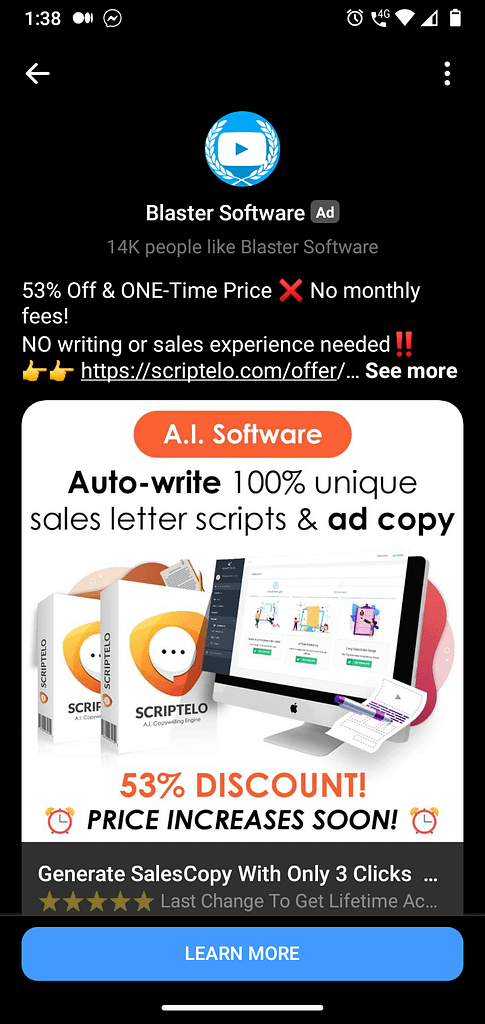 To get started, create a Facebook page for your freelancing business and post content that's relevant to the services you offer. Once you've established your page, you can begin sending messages to potential customers through Facebook Messenger.
Start by introducing yourself and your freelancing services and then provide details on pricing and availability. You can also provide links to examples of your work, as well as contact information for follow-up questions.
Finally, you can use Messenger bots, automated messages, and other strategies to keep in touch with potential customers and stay on top of their minds. Make the most of your time and leverage the power of automated bots to improve your marketing efforts.
Facebook Page for Business
Using a Facebook Business page for Facebook marketing strategies allows you to broadcast your services to a wider audience and engage with potential customers. To use it effectively, start by creating a professional profile, including your work history, skills, and services offered.
Then, post regularly about the services you offer and any promotions or discounts you may have. Encourage followers to interact with your posts by asking questions and responding to comments. Finally, use Facebook Ads to target potential clients.
By using all of these elements, you can increase your reach, build relationships with potential clients, and drive traffic to your website.
Meta Pixel

Allows you to track the actions of people who visit your website after viewing your ad on Facebook. Meta Pixel helps you understand which ads are working and how people are responding to them, so you can adjust your marketing strategy and increase conversions.
It helps you build custom audiences based on website visitors, so you can target them with more relevant ads in the future. By tracking visitor behavior, analyzing the data, and targeting the right audiences, freelancers can maximize their return on investment from their Facebook ad campaigns. Learn how to install your pixel here.
Facebook Groups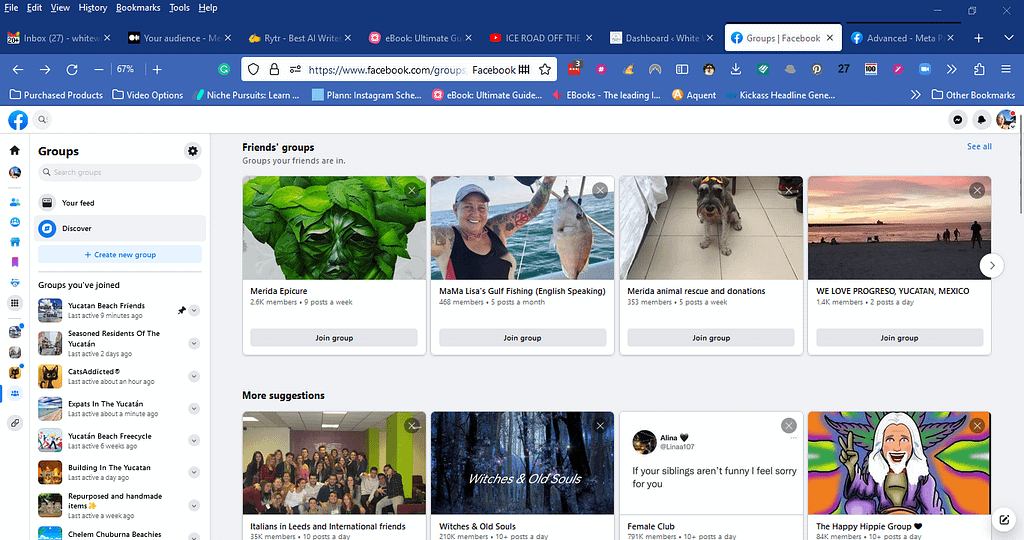 Facebook Groups can be an effective tool to market your freelancing services on Facebook. By creating a group dedicated to your specific services, you can easily reach potential clients who are already interested in what you offer.
You can use the group to build a sense of community with other freelancers and collaborate with them. Having an active presence in other Facebook Groups is important for freelancer marketing because it gives you the opportunity to showcase your skills and establish your value to potential customers. It also helps to build relationships and trust with potential customers, which can lead to more freelance work.
Integration with WhatsApp and Instagram
Integrating WhatsApp and Instagram with Facebook can be a powerful tool for freelancer marketing. By giving potential customers direct access to contact information and services, freelancers can easily reach out and establish relationships with customers.
Having both WhatsApp and Instagram integrated with Facebook allows freelancers to post content to all three platforms simultaneously. This saves time and increases visibility, allowing freelancers to reach more people with less effort.
Integrating these platforms also gives freelancers the ability to track engagement metrics and adjust their marketing strategies, allowing them to optimize their campaigns for maximum efficiency. By effectively leveraging the synergy between Facebook, WhatsApp, and Instagram, you're able to establish a cohesive digital presence, increase reach and sales, and enhance the overall experience for visitors.
The key point here is that freelancers who have a clear focus on marketing can use these platforms like any other media to reach their ideal audience in the most effective way possible.
Facebook Ads
Truthfully, I hesitated to add this to the marketing list, only because it is so easy to spend a *hit ton of money on ads with little to no return. Facebook Ads definitely have a huge learning curve. But that being said, I felt that I'd be neglectful if I didn't mention it as a marketing channel.
By creating targeted ads as a part of their Facebook marketing strategies, freelancers can reach potential clients who are interested in their services. They can specify the demographic and interests of the people they want to target, so their ads are reaching the right people.
With Facebook Ads, freelancers can also track the performance of each ad and make changes as needed to ensure they are getting the best return on investment. Using Facebook Ads is important for freelancers because it allows them to reach the right people and track their performance, so they can make adjustments as needed to get the most out of their budget.
Ok, I know this is a lot…
…which is why I recommend that you start with one platform and master it before moving on to the next. You may even decide that you're doing well with the platform and don't need to add another. It's all up to you.
Overall, there are enough Facebook marketing strategies available for creative freelancers to help promote their services and reach a wider audience.
The only one limiting you is you!
From using paid ads to creating content and leveraging influencers, there is something for every freelancer to use to their advantage. Even if creatives aren't your thing, there are plenty of avenues to find other talented freelancers like yourself and hire out the stuff you don't like to do!
With the right strategy and implementation, freelancers can make their mark in the ever-growing world of social media marketing and become successful.
With the right tools, you can be a virtual powerhouse in social marketing. Post videos, stories, static images, or whatever trips your creative trigger. Use Metricool, our auto poster for Facebook, Instagram, and many other social media platforms, and start seeing those leads pour in! https://whitewingsmedia.com/9o2y