By Deborah A. White
What is Webflow?
Webflow is a drag-and-drop, website-design program geared towards developers or graphic designers. If you're tech-savvy, it's easy to discern and turn out stunning websites in less than half the time. Because of its complexity, it is not the solution for beginners to web design. It still requires a basic knowledge of HTML to make use of its exceptional features.
 Webflow vs WordPress
We made a Webflow vs WordPress comparison. We wanted to see how the Webflow templates stood up against the WordPress templates. We did not attempt a complete comparison here; we felt it boiled down to this:
The block-style in WordPress comes pre-formatted, with restricted selections to change the formatting. The drag-and-drop style WordPress works very well for beginners, but some users may find it frustrating, given the limited choices for changes.
The Webflow templates are uniquely customizable from the options menu with a few clicks. There are many features involved in this program, and if you don't already grasp the fundamentals of HTML, you will find this overwhelming.
Webflow CMS & Ecommerce
Webflow CMS works well for designers, editors, content strategists, and developers.
Designers can use visual scheme manipulation instead of relying on laborious coding and revisions.
Editors can manipulate content on their website using the Webflow CMS. Updates are live in a click.
Content Strategists can let their creativity soar and not be confined to an inflexible scheme of formatting that may not work for their concept. You can customize any structuring desired.
Developers have the option of managing JSON functionality directly on the webpage. Using outside resources, or integrating with your existing CMS, all is possible.
Let's Talk Webflow Ecommerce.
Learning how to design your store in Webflow Ecommerce couldn't be easier. Not only is the setup easy as 1, 2, 3; the Webflow tutorial is irreverent and fun!
You can design your own retail store from scratch or use a handy Webflow template. There are four very basic steps to adding a product, but you also have the ability to add your product base by CSV file. Creating product variants is a couple more clicks, but still effortless.
Within the eCommerce system, you can connect, customize, and send your branded emails. Who doesn't love the idea of perfectly tailored emails? This is the ultimate customization software.
What about Webflow Pricing?
The Webflow pricing structure is such that there is something for everyone. If you want to explore or have very limited needs, there is a free-forever, limited plan. There are more robust pricing structures for more extensive needs. And they are still quite reasonable.
There are two main pricing tiers with many alternatives under each. After that, more options are available, which can make selecting the right plan difficult to distinguish.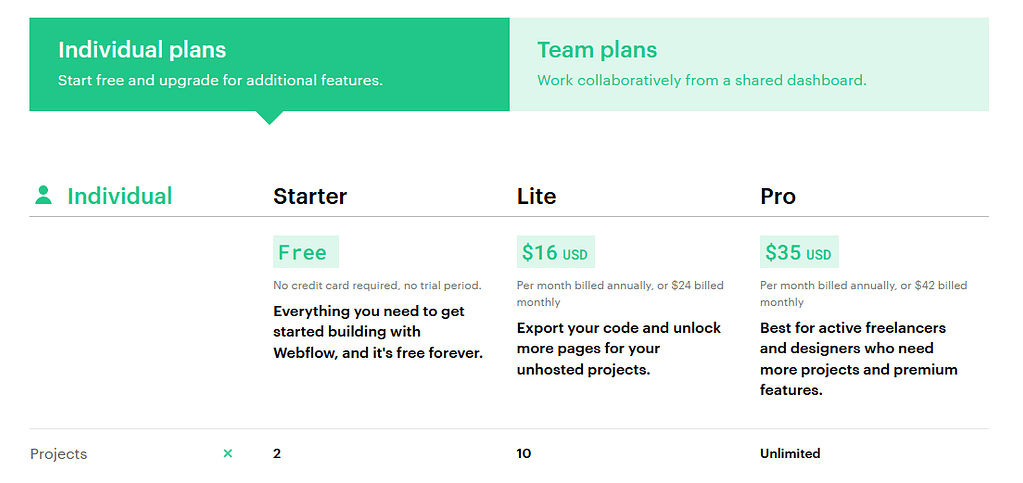 Our Webflow Review
Webflow is a robust solution for the tech-savvy entrepreneur or web professional. This is not a platform for beginners unless you are ready to dedicate yourself to throwing yourself into the deep end. Even then, we would not recommend it to beginners.
This is a fantastic tool that provides ease of design, integration of CMS, and Webflow eCommerce solutions. You can also create your Webflow site and still export it to WordPress or vice versa; bring your WordPress site into Webflow!
The ability to customize at every professional level is nothing short of amazing. Web professionals will be drawn to the ease and simplicity this software package affords.